A domain in the heart of Lorraine
Winter closing until 31/03/2021
HIstoric monument built in 1564
Built from 1564, surrounded by cultivated land and forests, Romécourt is a place steeped in a history spanning four centuries. The fortified 16th century residence is listed in the inventory of historical monuments of France.
The castle is renaissance style. Four corner turrets, one of which is replaced by a castle chapel, beat the entrances. Visitors enter through the Porte d'Allemagne in a large central courtyard and exit through the Porte de France for a walk in the English park. Chapel and park can be visited on request.
In the center of the Lorraine regional park in the land of ponds (Moselle), it is the ideal place away from the main roads for a stopover of one or more days in comfortable guest rooms and a fully-equipped gîte. renovated. Everything invites calm and rest in this timeless place.
Bordering the castle of Romécourt, a magnificent English-style park with large, centuries-old trees. A so-called Victor Hugo oak comes from his property in Guernsey. On each side, gorges were dug to extract the earth necessary for the manufacture of bricks and tiles which were used to build the estate. One of them ends with a small pond, the calm of which the walker appreciates. Opposite the steps of the manor, an alley of the Belle Croix leads to a Calvary. It can be the start of long walks in the forest to the Marne-Rhine canal.
(c)Région Grand Est – Inventaire général/Ph.B.Drapier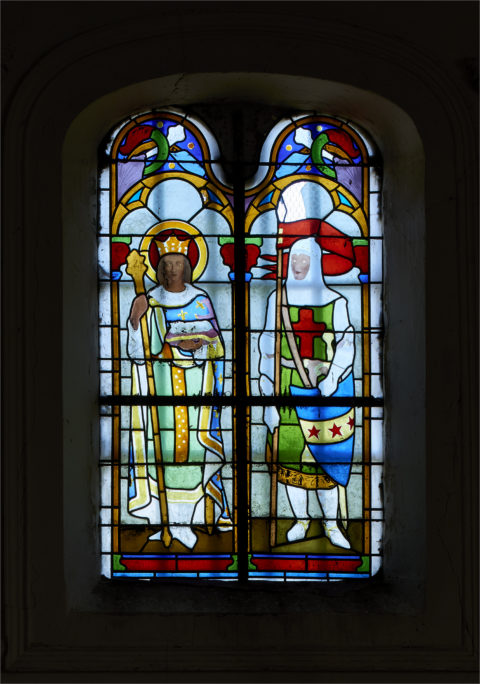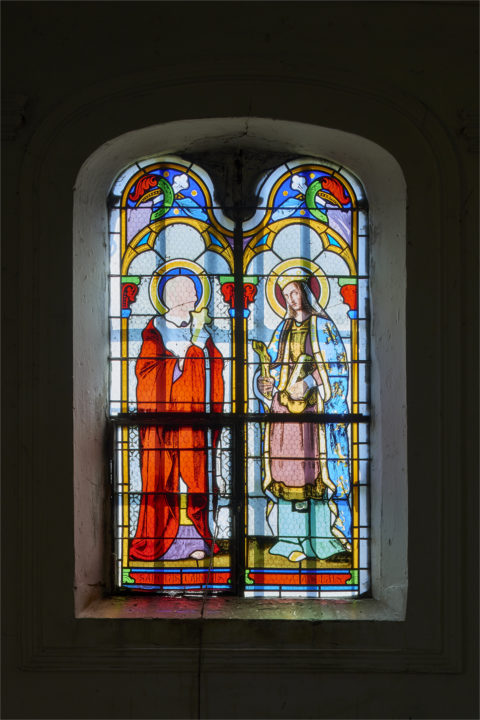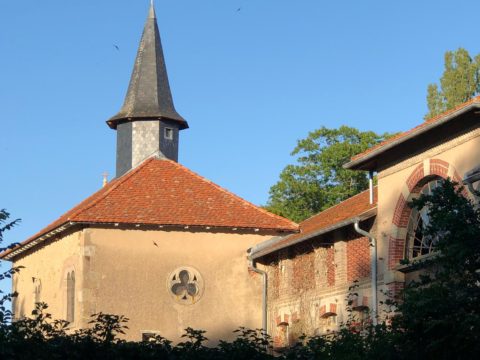 An accompanied visit is required of the small chapel which was a parish until 1793. It was built at the same time as all the buildings at the end of the 16th century.
One of the stained-glass windows represents Saint-Louis and Hugues de Martimprey who accompanied the king to the Crusades and was knighted on this occasion. Since 1698, the castle chapel has served as a burial place for the family of Martimprey de Romécourt.
In 2016, the chapel was restored with the help of the department, the Grand Est region and the Heritage Foundation. Ceremonies (marriage, baptism, etc.) are held there as in the past when a chaplain celebrated mass for the small community of Romécourt. About fifty people lived there in autarky.
(c)Région Grand Est – Inventaire général/Ph.B.Drapier
Cottage

& bed and breakfast
Construction started in 1564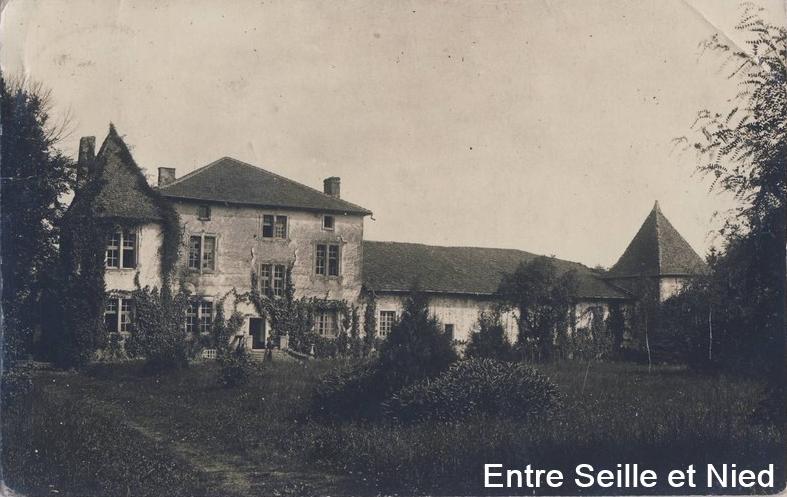 In the 16th century, the lands of Romécourt formed a fiefdom which depended on the bishopric of Metz. In 1564, the fiefdom was granted by the Cardinal of Lorraine to Michel l´Enfant, secretary to the Queen of Scots Marie Stuart and officer of the Saltworks of Dieuze.
In 1680, the property was bought by Joseph de Martimprey. Martimprey's family is originally from Franche Comté, its founder is Hugues de Martimprey, a crusader knight, killed in 1250 at the Battle of Pharnia in Egypt, while participating in the 7th Crusade under the leadership of Saint Louis.
Discover the east of France and the rich regional heritage of Lorraine and Moselle
Places to enjoy near Romécourt
Domaine de Romécourt, 57810 Azoudange, France
Phone
+ 33 (0)3 87 86 67 35
+ 33 (0)6 89 51 23 19