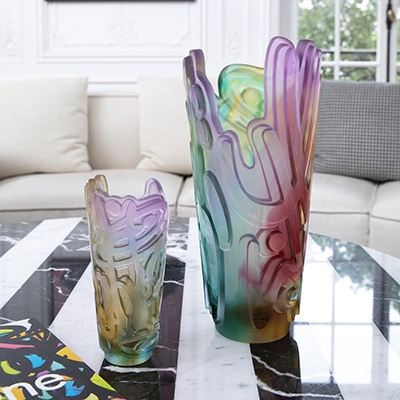 1 hour from the cottages of the Château de Romécourt
The Daum crystal factory was founded in 1878 and is part of the Art Nouveau movement. The brand is associated with the greatest artists of its time such as George Braque, Dali, etc. In almost 140 years, she has collaborated with more than 350 exceptional signatures. Part of this incredible collection is now housed at the Musée des Beaux-Arts in Nancy.
The specificity at Daum, consists in the mastery of crystal paste. This 7 millennia-old technique was rediscovered by Daum in 1900 and reworked in 1968. This unique process has the particularity of adding translucency to objects. The brilliance, color intensity and shadow tones are also easily recognizable and are the signature of the brand. Due to the manufacturing process, each piece has a unique color. This know-how is listed in the Inventory of Intangible Cultural Heritage in France.
Each piece seems to be alive and is a true work of art. All the objects are produced in France. A factory store is located on the factory site.
From the cottages of Château de Romécourt, you can explore the exceptional creations of the Daum brand.